It is common in today's world for people to prefer content that is interesting, unique, and easily comprehensible. Bloggers, writers, and publishers should attempt to provide valuable content to the target audience in order to achieve this goal.
As a writer, you may find that you are overburdened by the additional work that must be accomplished to submit your work in a timely manner. For this purpose, writers use content writing tools provided by various platforms.
Using these tools can simplify the process for you and help you produce well-researched, grammatically correct, easy-to-understand, and effective content.
There are dozens of platforms available today that provide tools and services to help content writer improve their writing style and deliver their work in a timely manner.
We will discuss 7 such platforms and how they help content writers. Let's get started.
7 tools to help you in content writing
1 – ProWritingAid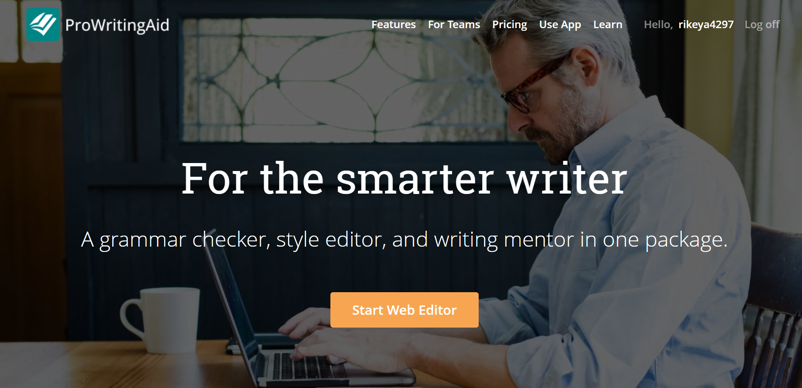 You can become a better writer by using ProWritingAid, an AI-driven platform that enables you to improve your writing with the help of AI.
You can use ProWritingAid in finding and correcting embarrassing mistakes in your writing just like grammar checkers.
However, it takes its abilities a step further. In addition to enhancing your grammar, it will also help you to enhance the clarity, tone, style, and vocabulary of your writing, thereby making your writing more convincing and compelling.
4 – Surfer content editor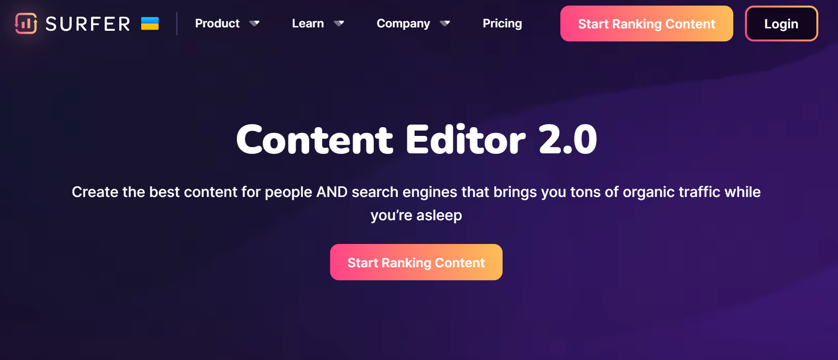 Content-writing tools such as Surfer's Content Editor can help you write content that is SEO-friendly.
While you are writing, the program monitors the density of keywords, the number of words, and the readability of your content.
Using examining more than 500 data points, it is capable of comparing your content to that of organic competitors. By creating valuable, SEO content, you can outrank your competitors in search engine results and increase your organic traffic significantly.
You won't need to open multiple windows or copy and paste text often when using the tool. The progress of your project will be displayed in a small widget on the right side once you connect your content document to the tool.
With the tool, you can instantly check your content quality by looking at the Content Score. Content Editor is included in the Surfer toolset. Google Docs and WordPress can be integrated with it. Register for a 7-day free trial to view the tool in action.
3 – Grammarly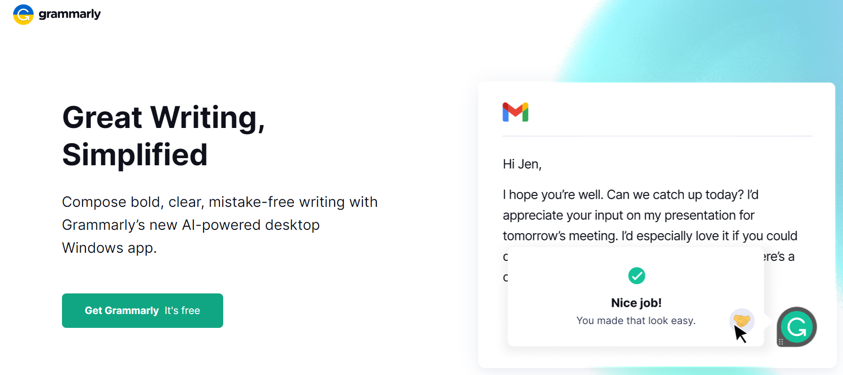 4 – Copyscape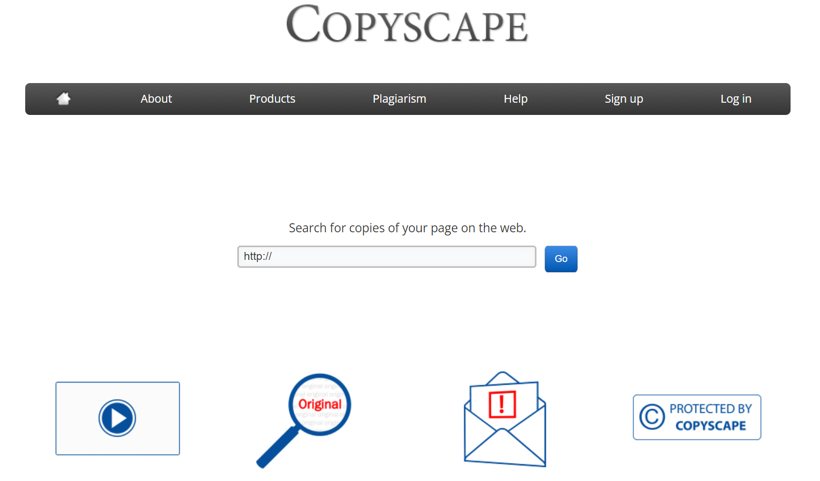 The Copyscape plagiarism checker tool is great for anyone who wants to make sure that their content is authentic. Content creators must take every precaution to guard against plagiarism, which is one of the most serious offenses they can commit.
Google can impose additional penalties upon people who plagiarize their content. With this tool, you can find out if there are similar articles on the internet to the content you have on your website.
By using Copyscape you will be able to create unique content that can rank quite well on search engines.
5 – Novel Writing Software – Squibler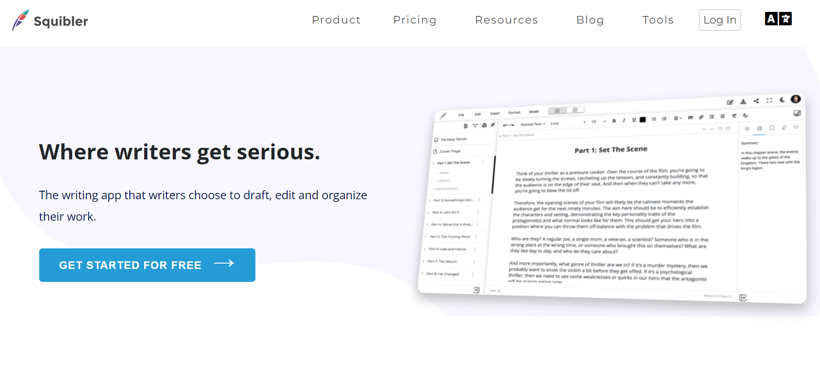 The process of writing short articles is relatively straightforward, but longer articles can be difficult. Squibler is a great tool for staying motivated when you are working on a novel or any kind of content that requires a long time to achieve.
With this product, you will be provided with a clutter-free writing space that will assist you in writing more and organizing your work.
You can set goals for yourself, such as setting a daily word count goal. Your progress is tracked and it helps you to stay motivated to accomplish these goals.
Squibler helps you to become a better writer. Using this software solution, you can write on a variety of topics and learn different methods of writing.
6 – Prepostseo – Paraphrasing Tool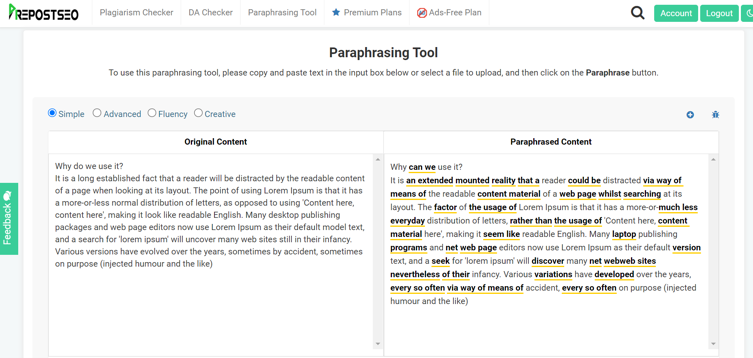 https://www.prepostseo.com/paraphrasing-tool
A simple interface makes it easy to use PepostSEO as a paraphrasing tool. Paraphrasing is the rewriting of a sentence differently without changing its meaning. This technique is used to improve the quality of writing.
Writers benefit from paraphrasing as it saves a considerable amount of time. With PrePost SEO you can easily rewrite your textual content. By entering your original text, the tool will produce the best-rewritten content without changing the original's context.
During the rewriting process, words are replaced with synonyms that are unique and turn out to be non-plagiarized.
Any individual who wishes to use PrepostSEO may do so whether they are a student, a webmaster, a freelancer, or a professional.
The free tool uses algorithms and techniques to rewrite the content and makes your content unique and distinctive from the original text by utilizing synonyms and sentence substitutions.
7 – BuzzSumo – Content Research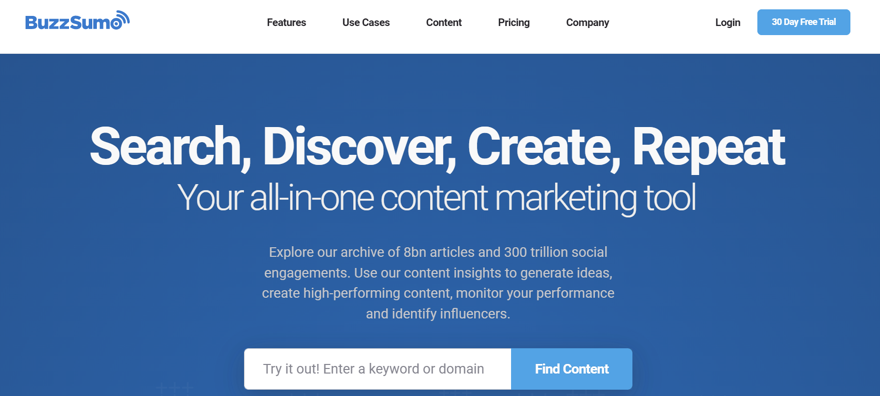 You can also use BuzzSumo to plan blog topics. You can search for a topic or keyword in the basic version of the web application, and then view the most popular blogs relating to that topic.
You can easily determine the popularity and success of an article by looking at its ranking and social shares.
Are you eager to improve your writing skills?
You can make the content creation process smooth with the tools provided by these platforms.
If you utilize tools that assist with researching topics, quality checking, and proofreading, you can save a lot of time during the writing process. Utilizing these tools will enable you to devote more time to improving the quality of your content.
We hope you improve your writing skills through the help of the websites and tools mentioned in this article.