I came across a fascinating article on dreams today as I've been having the sam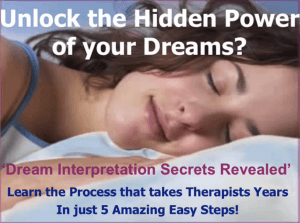 e one over and over again!
According to the article, dreams aid in memory storage, help cope with emotion, and reveal suppressed thoughts. Apparently, we dream an average of two hours a day, creating a total of five years of dreaming in a lifetime!
This is why I've invited dream interpretation expert, Matt Dilges to share on a webinar the hidden meaning of our dreams.
During this exclusive webinar, Matt will reveal:
How Your Dreams Reveal Your True Calling
How To Find The Answers To Any Questions You May Have
How To Use Your Dreams To Eliminate Your Stress & Anxiety
How To Find True Happiness And Solve Your Problems Fast
How To Resolve Conflict In Your Relationships Thanks To Your Dreams
And much, much more!
With the ground-breaking information Matt Dilges will be revealing, it's no wonder he's appeared on TV and radio!
Click here to watch Matt Dilges' webinar now.
Enjoy!